Posted on
12 April 2021
in
Love, Set, Match Cake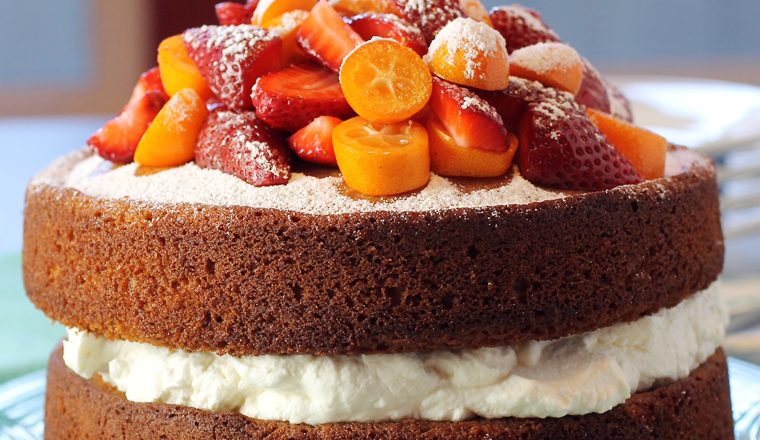 Preheat the oven to 350°F. Prepare pans. (Make sure to line bottom and sides with parchment.) Make the batter for the Milk and Honey Cake: Place a large sifter or a sieve in a large bowl. Add the flour, baking powder, baking soda, and salt and sift. In a small bowl, whisk the eggs together. Set aside.
Step 2
In another small bowl, whisk together the buttermilk, honey, and vanilla. Set aside. Using an electric mixer with beaters or a paddle attachment, beat the butter for 30 to 45 seconds on medium speed, then gradually add the sugar. When all the sugar has been added, stop and scrape down the sides of the bowl with a spatula. Continue beating on medium speed for another 4 minutes or until light in color and fluffy.
Step 3
With the mixer still on medium speed, add the eggs 1 tablespoon at a time, over 3 minutes. If the batter curdles, add 1 to 2 tablespoons of the flour to bind it back together.
Step 4
With the mixer on low speed, add the dry and wet ingredients alternately two times, starting and ending with the dry. Mix until just combined and smooth. Don't overbeat. Scrape down the sides and bottom of the bowl with a spatula to make sure it's well combined.
Step 5
Pour the batter into the prepared pans and smooth the top. Bake the cakes side by side on the same oven rack for 30 to 35 minutes or until a wooden skewer inserted in the center comes out clean, and the cake bounces back when lightly pressed. Cool the cakes completely on a wire rack.
Step 6
Make the Honey Whipped Cream: Pour the cream into a cold large metal bowl. Add the honey. using a balloon whisk, begin to whisk the cream until it has doubled in volume, has smooth soft peaks, and is light and fluffy.
Step 7
Put one of the cakes on a serving plate. Spoon the cream on top of the cake, keeping it 2 inches from the perimeter. (You'll will have extra to serve on the side.) Gently place the top layer of the cake onto the bottom layer. This will push the cream to the edges.
Step 8
To decorate, start with the whole strawberries and then pile on the halved and quartered pieces, facing both cut side in and out at various angles. Finally, dust your masterpiece with confectioners' sugar to bring out the shine and juices of the strawberries.
For the cake: To get the cake you truly deserve, sift the flour mixture twice to get the flour as aerated and light as possible, or give it a spin with cake or spelt flour. The keys to this cake being moist are not to overpack the measuring cup with flour and not to overbake it.